Studying, work, household chores make us live in a hurry and constant deadlines. Finding time for at least a little rest is becoming increasingly difficult. If you have the feeling that you again spent a lot of time cooking, it's time to change something. You can start in your kitchen. We tell you how to arrange the space more ergonomically and more conveniently in order to reduce the time spent at the stove.
"Work Triangle"
The "working triangle" rule has been around for almost a century, but it's still relevant. Its essence lies in the fact that the main areas of the kitchen – sink, refrigerator and stove – should conditionally fit into an equilateral triangle with sides of a meter and a half. This allows you to make fewer unnecessary movements and spend a minimum of time on it.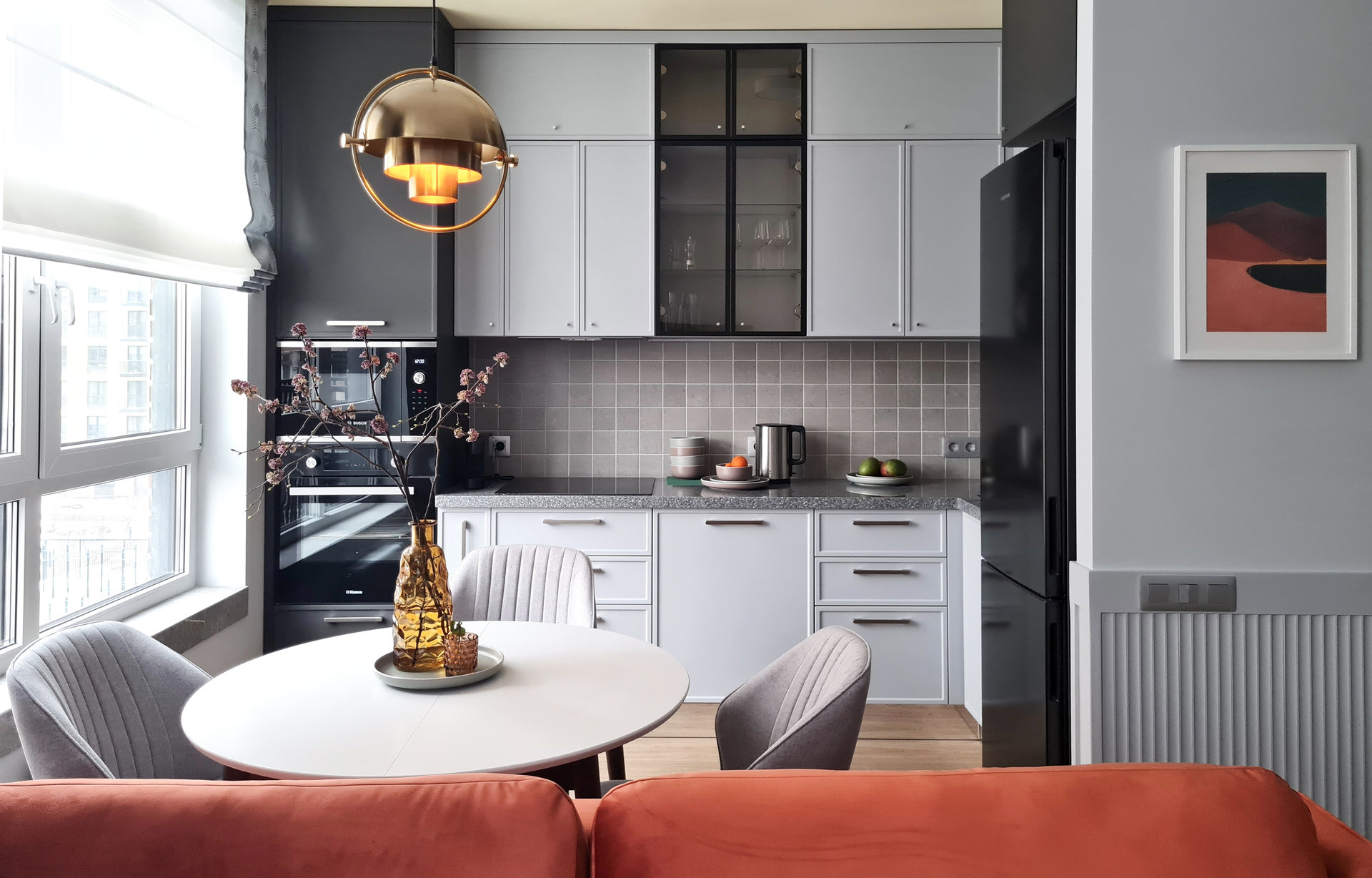 smart technology
Modern technology greatly simplifies our lives: it saves time and effort. It is hard to imagine how it would have to get out without a refrigerator, washing machine and vacuum cleaner. Without small household appliances – the same situation. In an electric kettle, water boils faster, and a food processor will cut and rub vegetables in a couple of minutes.
Proper location of household appliances
Recall that the refrigerator must be in the working triangle. If it is on the right, then the door should open from left to right, and if it is on the left, the door is hung from right to left. Be sure to place the dishwasher next to the sink and dryer – so it will be easier and faster to load and unload.
A built-in microwave is often placed above the oven. It looks aesthetically pleasing, but too high a location entails inconvenience and extra time costs – all of a sudden you will need to stand on a stool or slowly carry a bowl of soup so as not to spill. Experts advise placing the microwave at a height of no more than 135–140 cm from the floor or 6–8 cm below the shoulder of the one who most often uses the appliance.
Sufficient number of outlets
Decide on the number of household appliances that you are going to use. It is necessary to make sockets not only for large-sized and built-in household appliances, but also for small helpers: electric kettle, coffee maker, toaster. This approach will eliminate the need to suffer with extension cords and constantly move devices from place to place in order to connect to the network.
Sockets above the countertop are usually located at a height of 10–30 cm from the work surface. In no case do not install them behind the sink and stove: they can be deformed by high humidity and hot air.
Storage in order of importance
If bringing out new outlets in the kitchen or redoing the working triangle in an existing kitchen space is long and costly, then everyone will be able to organize competent storage. It will help save time looking for what you need, and at the same time it will be easier to maintain order in the boxes.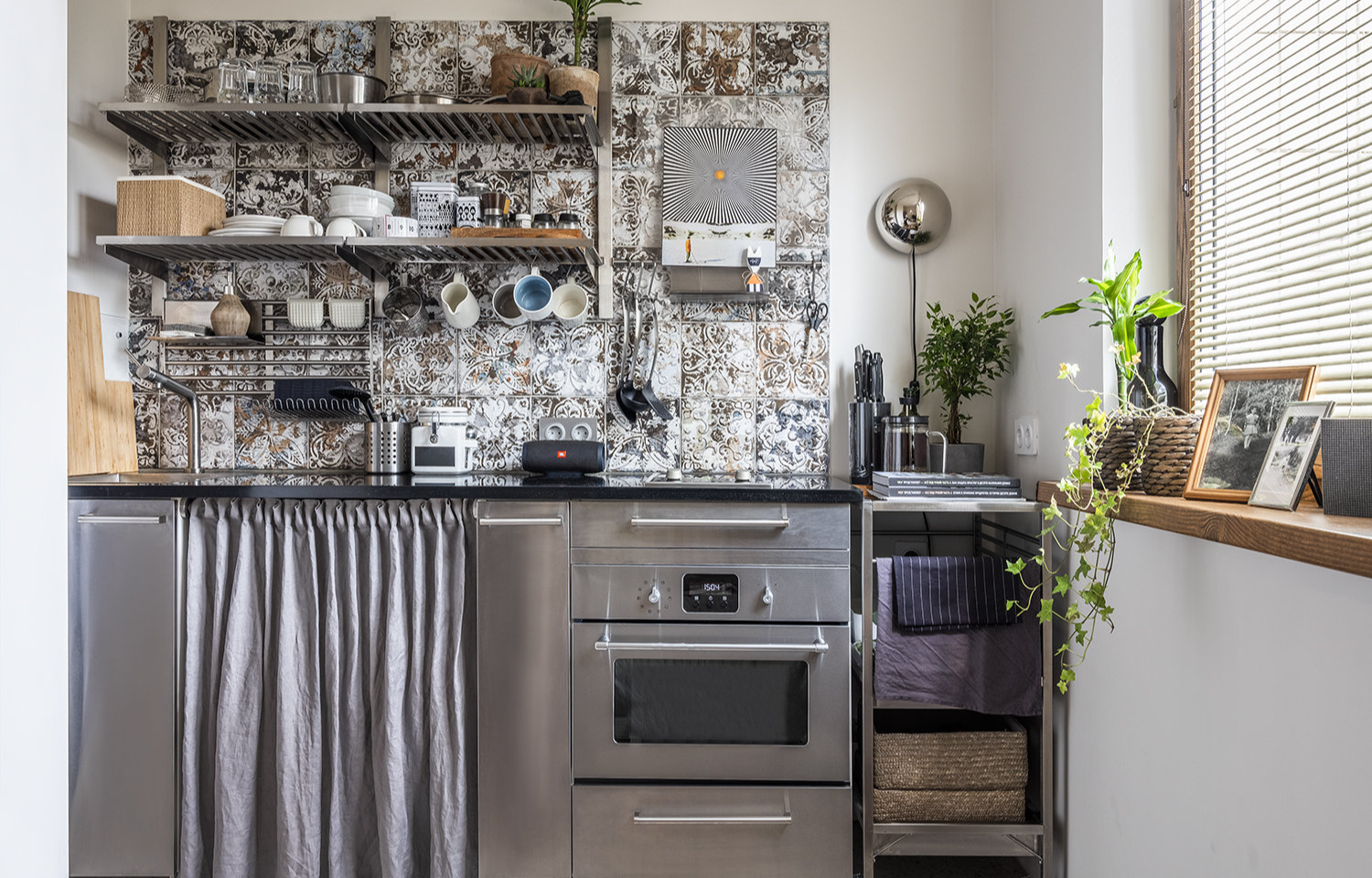 Crockery, kitchen utensils and groceries should be stored according to the frequency of their use. Everything is simple here: put what you use often on the lower shelves and in the front rows, place the rest further and higher. To make it easier to navigate storage containers, sign them.
open storage
Keep spatulas, knives, potholders, cutting boards so that they are always at hand. They can be placed on open shelves, rails, in containers. To store spices, use organizers, thanks to which numerous jars will take up little space.
Dryer in the bottom drawer
Typically, a dish dryer is placed in the top cabinet above the sink, but it is often inconvenient to place plates and cups there, especially on the top shelf. You have to stretch or stand on a stool, and this is all a waste of time and just inconvenience.
If space permits and there is a dishwasher, you should consider the option of a dryer in one of the lower drawers. It is especially convenient if the drawer is with a closer and opens by pressing the facade.
Useful little things
Surround yourself with functional things that make cooking easier and faster. Instead of a regular meat mallet, use a tenderizer with a container for sauce – you don't have to wait long for the steak to marinate. Choose pots with measured divisions and a spout-drain, deep bowls-colanders, scissors for herbs – these little things will make your life easier.
And so that during cooking you can quickly "pull up" the necessary little things to yourself and not occupy the work surface with them, use a mobile cart.